PROGRAMME I: YOUNG RESEARCHER PROJECT (YRP)

5.1  General Guidelines
Each participating team is required to submit a written report prior to the congress. In addition, during the congress, participants are required to present their research project orally to the judges in the presence of general audience in a lecture setting. They are also required to showcase their research project through an exhibition. Each research project will be judged based on the quality of the research project exhibit, oral presentation, written report, and significance of the project.
5.2  Research Project
5.2.1  The presentation of the project must be in English language.
5.2.2  The research project must be the original work of the students. Teacher advisors are strictly restricted to play the advisory role only. 
5.2.3  All research projects should focus on the given theme, be an original work, a result of a current continuing or parallel scientific/mathematical research, and not a duplication of any previous research.
5.2.4  There are two categories of research project: (a) Science, and (b) Mathematics which must be aligned with the theme of the 12th Regional Congress SYSS+.
5.2.5  For the category of science project, the areas of research should be related to (a) the application of science in daily lives, or (b) the integration of knowledge in Science (Biology/Chemistry/Physics), Mathematics, Technology (including ICT), Engineering, and Environment.
5.2.6  For the category of mathematics project, the area of research should be related to (a) the application of mathematics in solving real-world problems and must be related to one of the following domains: Arithmetic, Algebra, Geometry, Calculus, Probability and Statistics, as well as Discreet Mathematics, or (b) investigation of certain well-known mathematical objects to extend to new ideas, postulations or theorems with certain special properties.
5.2.7  The scope of the research projects could include to: (a) demonstrate the application of scientific or mathematical principles, (b) attempt to provide new concepts in the process of designing technology, (c) create technological inventions to meet the needs of societal development, community well-being, and sustainable environment, and (d) promote the socio-economic growth of the society.
5.2.8  Failure to comply with any of the rules may result in disqualification.
5.3 Research Project Proposal
All students must submit a YRP proposal together with the SSYS+ Forms. The research proposal SHOULD to be written according to the YRP proposal format provided in Appendix 4. Submission can be made online. Kindly ensure acknowledgement of receipt upon submission. Documents should reach the organiser by 30 September 2019.
Online Registration and Submission of Proposal: www.recsam.edu.my/sub_ssys/registration
5.4 Full Research Project Report
5.4.1  The format of the written report should strictly follow the sequence as shown in Appendices 5 or 6.
5.4.2  All students are required to submit written report of their research project, bound and in soft copy, formatted in MS Word and addressed to the organiser on or before 31 December 2019.
5.4.3  The soft copies may be sent to the Secretariat through this email address: This email address is being protected from spambots. You need JavaScript enabled to view it.. If your file is more than 5MB, kindly use the online uploading method. Please make sure you receive an acknowledgement of receipt from the organiser.
5.4.4  Volume of the report should NOT EXCEED more than 15 pages.
5.4.5  Four (4) printed copies of reports must to be submitted during registration.  This will be distributed to the judges for judging purpose. No fanciful binding is required.   
Online Submission of Full Report: www.recsam.edu.my/sub_ssys/registration
5.5 Oral Presentation
Every participating team of the Science and Mathematics research project is required to make an oral presentation of their project to the panel of judges and the audience.  The rules for oral presentation are as follows:
Any participant from the research project team may present. Multiple presenters are also allowed.
Teachers are not allowed to assist the participants during the presentation.
Presentation should be done using computer, LCD projector and MS PowerPoint or related software, or any non-digital means. All presentation files will be collected during the registration.
The order of presentation for each project will be determined by drawing lots. The drawing will be done prior to the event and the sequence will be posted on the SSYS+ official website as well as SSYS+ social page.
Each project is allocated 10 minutes presentation time.
Immediately after the presentation, a question and answer (Q&A) session by members of the floor will follow (within the time limit provided).
 
5.6 Research Project Exhibition
All projects will be displayed in an exhibition hall. The panel of judges will first view the exhibition for judging before it is open for public viewing. The exhibits of the research projects on display must:
fit two display panels each with dimensions 3 feet ´ 4 feet (0.9m x 1.2 m).
be sturdy and strong/durable with parts firmly attached; lightweight, can be easily set-up and taken down, transportable and self-supporting.
be complete with accessories with the panels joined with hinges so that the project can be folded and unfolded easily.
ensure that any information, pictures, graphs, or other images be held down with masking tape for easy removal or re-arrangement.
observe safety measures in the case of electrical items or presentations with computers or chemicals.
any live organisms, specimens, poisonous materials or chemicals which are toxic or explosive are strictly prohibited.
Accessories
During the exhibition of the projects, no ICT equipment and accessories will be provided.  Should the delegates require this equipment, they have to secure the equipment by themselves.
Common science laboratory apparatus and mathematics tools may be provided subject to early notification and availability.
Two display panels, a table, 2 chairs and a power outlet will be provided for each project.
 
5.7 Removal of Project Exhibits
All project exhibits must not be removed before the closing ceremony.  

5.8 Criteria for Judging the Research Projects
All projects under the YRP programme will be judged based on four main components: (a) project exhibit, (b) oral presentation, (c) written report, and (d) significance of project.  However, due to the different natures of science and mathematics, the judging criteria for these two categories of projects are slightly different. The detailed criteria for the categories of projects are shown in Table 1 and Table 2.
Table 1
Judging Criteria for Science Projects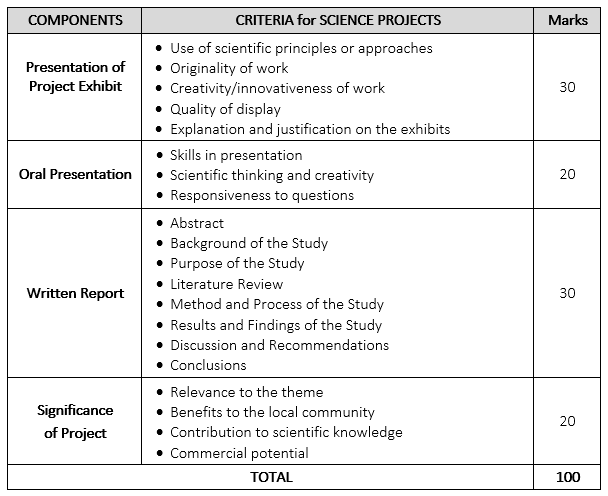 Table 2
Judging Criteria for Mathematics Projects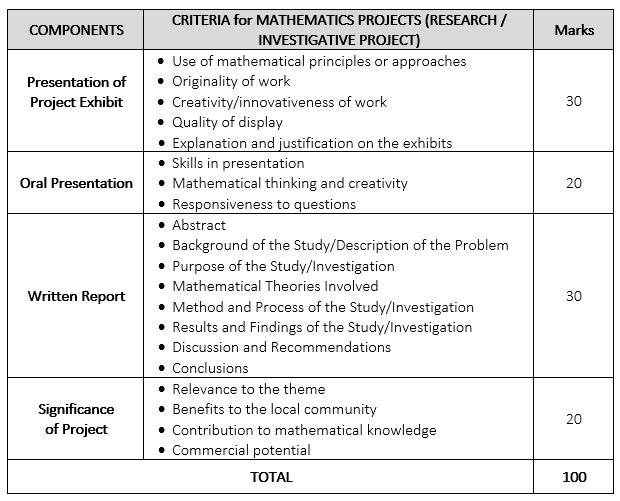 5.9 Awards and Prizes for Young Researcher Project (YRP)
YRP consist of two categories of research project: Science and Mathematics.  There are three categories of awards for each: (a) the Most Promising Young Scientist Award, (b) the Outstanding Award, and (c) the Special Award.  Each award will be accompanied with cash prizes and certificate.  In addition, every participant will be presented a certificate of participation.  The details of the award are shown in Table 3.
Table 3
Awards of YRP based on Categories